Exploring the Rain Garden!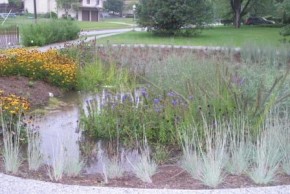 Anyone visiting the Co-op in the last few months will have noticed significant changes in our front and back yards. Our school is happy to be joining the many organizations and individuals who embrace rain gardens as a form of sustainable landscape design. A rain garden is a planted depression that allows runoff from impervious surfaces like parking lots and sidewalks to soak into the ground instead of flowing into storm drains and surface waters where it contributes to erosion, water pollution and flooding. These gardens, which use native plants can cut down on the amount of pollution reaching local creeks by up to 30 percent. omahastormwater.org
Almost a year ago the Co-op's Outdoor Environment Committee was awarded a grant from the Sustainable Schoolyards Partnership (SSP) to build several rain gardens at our school. The SSP is a UNL program that partners with schools with the aim to "Inspire and enable students to take part in enrichment of their school landscape." The SSP is concerned in particular with the legacy created by design decisions in our surrounding urban environment. They see schools as the logical place to begin to educate youth on sustainability and ecological responsibility, as well as providing opportunity for youth to connect to nature. The Co-op is grateful to the members of the Outdoor Environment Committee (OEC) for connecting us with the SSP funds, particularly Bryan Henkel and Gail Gladstone, who worked hard on the grant and designs for the rain garden before moving to Maine last year!
Another OEC member, parent, and intrepid landscaper, Matt Heebner, is working bring the plans to life! He has had help along the way by other parents during work days and from students over the summer. The rain gardens they have created will catch water, keeping it away from the school building, increase the biodiversity surrounding the school, and provide new opportunities for the children to be involved with caring for the environment as well as observing plants and animals. The rain garden in the front yard is planted with grasses and hardscaped with river rock, and will serve to welcome visitors of all species to our school. The backyard will feature covered observation benches for children to observe the rain garden at work.
Please enjoy these photos of the rain garden in progress, and look out for more info on the rain garden, including a word from Matt Heebner!